Sometimes, life throws us little curveballs.
Insurance claims work is usually pretty dry, distant, detached work. We get claims in, investigate them, process them, and either pay or deny them. We deal a lot with attorneys, doctors, accountants, forensic experts, police and fire departments, and other investigative types. Our claimants range anywhere from apologetic because they have cost the insurance company money and are afraid we're going to cancel them now, to angry and demanding that we pay them, no matter how outrageous their claim may be just because they paid us a premium for something.
Well, this morning, I received a most interesting phone call. The man's name was Lonnie, no last name given. He started by saying he wasn't sure who he should be talking to, but started into this story about how in 1970 or so he had insurance he thought through Fireman's Fund. He said he'd gone to a local agent and because of his driving record, he was placed into a pool and he thought it was Fireman's Fund they placed him with, and during that year, he'd had two incidents occur. The first one was an accident in which he hit 3 dogs that ran out in front of him. Because of how he hit one of the dogs, it damaged a piece of sheet metal under the front bumper of his GTO. He never got it fixed. Later, he had an accident in which he struck another vehicle, causing damage to his own car as well, and he filed a claim. When he went to the shop, he had them add that piece of metal into the repairs and charged the insurance company for it as part of the claim. He knew it was wrong, but did it anyway.
Having heard his story, I told him I thought fate was a funny thing, and that I believed he had called exactly the correct person, because while I couldn't do anything about the claim, I was in a place to talk to him about what was really going on. I was able to disclose a little of my own life through 12-step recovery and we talked about the process of making amends, seeking forgiveness, granting forgiveness and making right our wrongs, cleaning up the wreckage of our past. So for the next 20 minutes, we talked about life, the surgery he is facing next week and in the end, I instructed him to put an extra $20 in the collection plate the next time it comes around, forgive the next person who does him a wrong without their having to ask for that forgiveness and consider the matter done, granted him forgiveness of the debt on behalf of Fireman's Fund Insurance Company, and advised him that the statute of limitations was long since expired for something that occurred in 1970.
He was a little surprised when I thanked him for calling me. He didn't understand. I had to explain that having been on his end of that phone call so many times in my own amends making process, it is a true gift from God when I get placed in a position to be on this end of the phone call for a change. He chuckled, with a little different understanding. We then talked a little about confession and living our lives in accordance with a higher set of principles and we both hung up wishing each other a good weekend.
This is how I pictured my new friend as I was talking to him: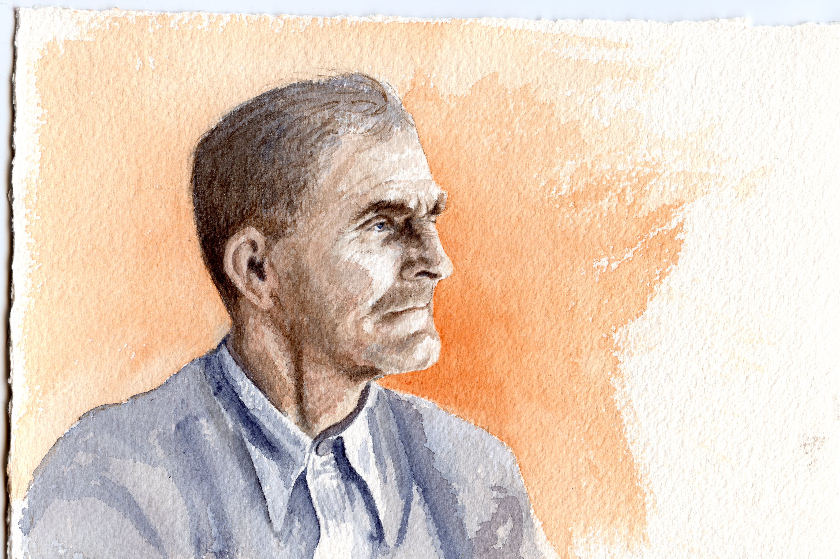 picture credit: Mimi Torchia-Boothby ( www.mimitabby.com )
Life's little curveballs sometimes end up being home runs.

:)