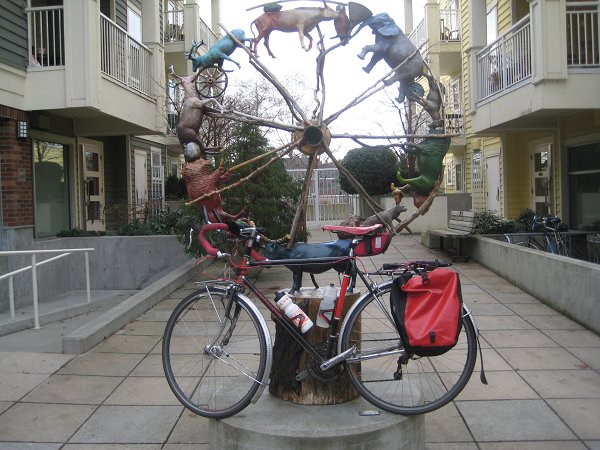 Three years ago today, I barely got any work done. I sat at my desk dreaming of thing yet to be. For over 9 months, I'd waited. Weekly trips to Elliott Bay Bikes to check on status. Seeing the frame when it came out of the shop and was ready for chroming. Looking at the chromed frame before being painted. Choosing all of the components, one by one, making sure I was going to get just what I wanted. Then finally it came back from the paint shop, and was ready to build out.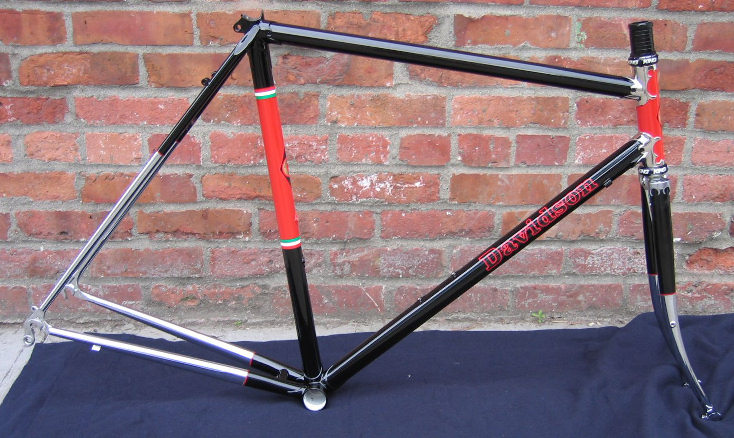 And build it out, they did.
Here, the crew admires their handiwork:
I'd gotten a call from Bob on Thursday letting me know that Eamon (Stanley) would be finished with the build-out by 4:00 pm on Friday and he would like to schedule to have me come in for a fit.
At 3:30 pm, I left my office in Lynwood, nervous as a little kid getting out of bed on Christmas morning. As I drove south from Lynnwood to downtown, though, I started to have doubts. This is a 56cm frame. All of my other bikes are 53cm, but Bob told me not to worry, they always design theirs a little larger. But what if it doesn't fit right? What if I don't like it? What if ....... what if .......? My mind played all these little mental games with me, knowing I'd just spent a lot of money for a "toy". And then, what if I get burnt out and don't want to ride any more? Or decide I really want a mountain bike? Or want carbon fibre...... Maybe I should have gone titanium...... All these little lingering doubts.
When I walked into the shop, there she was: Fenders, racks, lights and all of the things necessary for me to make this not just a bike that would be pleasing to the eye, but one that I could ride all day every day if I wanted to. Eamon still had to finish installing the headlight, and needed to put the mudflap on, but there was my lovely Katrina, front and center standing in the display room waiting for me.
And ride her I have! Bob and Eamon had done such an excellent job putting Katrina together that it took only a slight saddle adjustment, a slight cleat adjustment on my shoes and I was ready to go. From the moment I mounted her and rode a block north along Elliott, turning right and climbing up Blanchard, a block on 1st and then down the hill on Lenora back to the shop, I knew I'd made the right choice. It was like nothing I'd ever experienced before.
In three years, I have put 22,136 miles on this dream machine of mine. That friday night, I rode her home in the rain, a whole 7 miles and the second day I had her, we rode a 200K together. The day started warm and dry, and I finished the last 30 miles in a 25mph headwind that nearly blew me off the road, but we prevailed, and beat the heavy rain storm by less than a minute. We've done over 50 rides in excess of 100 miles, and never once have I dreaded having to get back on the bike to finish a long ride. I've ridden her on a 250 mile one-day ride, and she left me tired but pleasantly with no long-term soreness issues. Never once have I regretted my choice to have this all steel bike built.
She doesn't look quite as young as she did back on 2/16/07:
but she's still strong, still rarin' to go, and never complains, no matter what the conditions.
She has become my daily companion, and I look forward to the next 22,000 miles. Happy birthday, old girl. Thanks for all the good times.